Winner of Community's Choice of the AHAckathon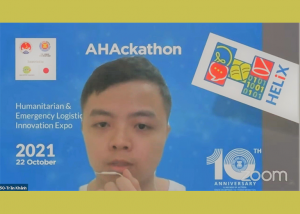 28 October 2021
-
Trần Nam Khanh of Team 5O LQDTU giving a short speech for winning the Community's Choice Award of the AHAckathon. The proposal from Team 5O is an app for data crowdsourcing and visualisation, aimed at providing better information for decision-makers. The app aims to connect humanitarian actors, governments and beneficiaries by providing a platform where affected people can quickly report their situation and needs. This report and data will be synthesised and aggregated, then visualised via custom maps and charts to quickly provide government authorities and humanitarian agencies with relevant information to take further action.
Check out the app of Team 5O, winner of the Community's Choice Award, in this link: https://youtu.be/QOa8DGlMZO4
AHAckathon is part of the Establishment of a Disaster Emergency Logistic System for ASEAN (DELSA) – Phase II: Satellite Warehouse project supported by the Government of Japan through Japan-ASEAN Integration Fund (JAIF).