Affirmations of Hope
30 June 2019
By Asia-Pacific Development Center on Disability
Rural markets are the center of trade and the backbone of the local economy. These markets, however, are often inaccessible to persons with disabilities and other people. Here are four stories from Cambodia, Lao PDR, Myanmar, and Viet Nam, which demonstrate how making rural markets accessible will not only increase opportunities for persons with disabilities to access products and services in the market, but also give them a chance to provide their own products and services as a means to fight poverty.
Read more on these four stories in the publication Affirmations of Hope.

A Keen Sense of Community and Affinity
Phlou Thmey Market, Kien Svay District, Kandal Province, Cambodia
© Asia-Pacific Development Center on Disability
"The market modification is good for everyone here — persons with and without disabilities, children, pregnant women and the elderly." — Mao Phal, market stall owner.
With an unpaved path reminiscent of moon craters, and often muddy and slippery, the wheelchair user didn't have enough reason to go to the market every day. These days, however, Sok Vath can look forward to a brighter future, thanks to the APCD/JAIF Project's rural market modifications and the free market space that his family was given at Phlou Thmey. His wife, 57-year-old Mao Phal happily says that the Project has had a positive impact on her husband. "He would now come to the market for four to five days a week and he can take his wheelchair inside. Although he can't speak, he smiles more often now and gets a lot of encouragement from our fellow market owners. His health is also a lot better," she says.
© Asia-Pacific Development Center on Disability
Rising Above Limitations
Nong Sa Market, Naxaithong District, Vientiane, Lao PDR
"I like to live independently and I don't want to be a burden [to anyone]…" — Srisupun Audonsawan, market stall owner
Srisupun Audonsawan has a shy, childlike smile that belies her age. In fact, she looks more like a teenager than a young woman of 26. Self-effacing and soft-spoken, she sells dried vegetables and noodles in a small stall at Nong Sa Market. Amid the chaos of the public market, her stall is a small oasis of calm where you will see neatly stacked onions and garlic, macaroni packs, noodles, dried mushrooms, and spring rolls wrapper packs. As a beneficiary of APCD/JAIF Project's free market space, Srisupun is taking a big step for herself and is setting an example for other persons with disabilities.
Disability Awareness in Action
Myauk Pine Market, Pyapon Township, Ayeyarwaddy Region, Myanmar.
© Asia-Pacific Development Center on Disability
"I am very glad that the market is more accessible now than before. I used to have a hard time walking through the pathways especially during the rainy season. It's easier now." — San San Myint, mother of a boy with disability.
"We buy food from the market and I play here with my friends," says eight-year-old Htet Mon Hut. "I've never seen a wheelchair before but I've seen a few people with crutches visiting the market." Attracted to the sights and sounds of the ongoing awareness campaign activity, 35-year-old mother San San Myint smiles widely when Committee members approach her for a brief chat. "I have heard of the modifications here because I come here every day with my son," she says, referring to seven-year-old Sei Thu sitting on a bicycle at her side. The boy can't speak but can hear.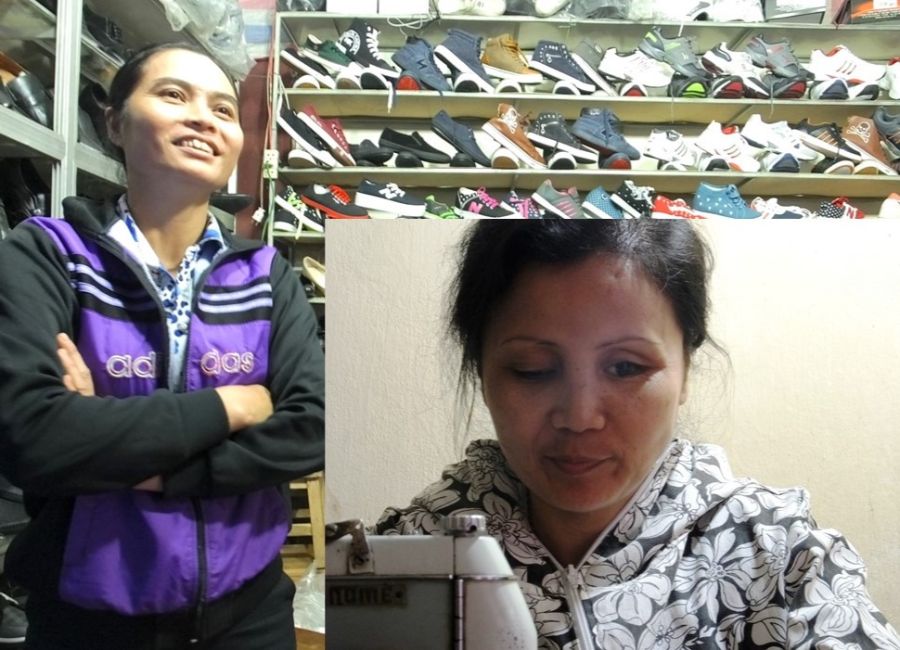 © Asia-Pacific Development Center on Disability
A Tale of Two Mothers
Nhong Market, Ba Vi District, Hanoi, Viet Nam
"Selling has never been more comfortable and business is good." — Phung Thi Hoa, mother
"The new toilet saves me a lot of time. Some friends have been kind enough to watch the shop for me while I'm away for a few minutes." — Chu Thi Lan, mother
Phung Thi Hoa used to bake under the hot sun, get soaked in the rain, or shiver in the cold weather when she was still selling in the exposed part of Nhong Market. Chu Thi Lan, meanwhile, had become used to using the toilet — located 500 meters away — only once per day when she's in her small tailoring and repair shop. Both are mothers who need to be healthy to support their families.
With close cooperation and collaboration among local government officials, national governments, persons with disabilities, rural market stakeholders, and the community, rural market modifications like installments of accessible ramps, pathways, toilets, among others were undertaken and free market spaces were provided as approaches to create non-handicapping environments in Cambodia, Lao PDR, Myanmar, and Viet Nam. These activities were part of the "Project for Creating Non-Handicapping Environments (NHE) in Rural Communities in ASEAN" supported by the Government of Japan through the Japan-ASEAN Integration Fund (JAIF). This project also served as the next phase of the earlier "Project for Improving the Overall Quality of Life and Well-being of Persons with Disability (PWD) in ASEAN (Phase I)," also supported through the JAIF.