2019 AICHR Regional Dialogue on the Gender Perspective on Disability Rights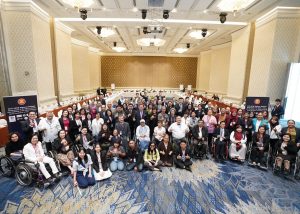 3 December 2019
-
The ASEAN Intergovernmental Commission on Human Rights (AICHR) convened the 2019 Dialogue to mainstream the rights of persons with disabilities in the ASEAN Community from 3 to 5 December in Bangkok, Thailand.
Focusing on the theme "Gender Perspective on Disability Rights," the dialogue gathered participants from ASEAN sectoral bodies, government officials, organisations of persons with disabilities, national human rights institutions and experts on disability rights. Participants discussed actions towards the implementation of the ASEAN Enabling Masterplan 2025: Mainstreaming the Rights of Persons with Disabilities.
AICHR Thailand hosted the dialogue in partnership with the Ministry of Justice and the Ministry of Social Development and Human Security of Thailand, the ASEAN Disability Network, with the support of the Government of Japan through Japan-ASEAN Integration Fund.