2021 New Year Message from H.E. Ambassador Chiba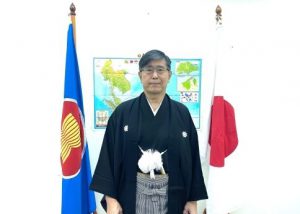 01 January 2021
-
On the occasion of the New Year 2021, H.E. Chiba Akira, Ambassador of Japan to ASEAN, delivered his New Year message to all.
Taking this opportunity, he reaffirmed his determination to promote Japan's cooperation with ASEAN even more strongly, looking ahead to the future of Japan-ASEAN relations which will commemorate the 50th anniversary in two years' time.
He stated, amid the COVID-19 Pandemic throughout the world last year, we once again recognised the importance of the Japan-ASEAN partnership through various efforts to prevent the expansion of the pandemic while accelerating economic recovery.
The COVID-19 outbreak revealed the challenges of facing such crisis as the deterioration of global supply chains causing the disruption of flow of goods in a number of countries. Japan and ASEAN amassed our wisdom together and implemented several initiatives for mitigating impact on the current economy and strengthening economic resilience including in digital economy and supply chains towards the post-COVID-19 era.
Ambassador underscored Japan's support to ASEAN Outlook on the Indo-Pacific (AOIP) and assistance for the ASEAN Centre for Public Health Emergencies and Emerging Diseases (A-CPHEED), which establishment was formally announced on the occasion of the Japan-ASEAN Summit Meeting last year, as a flagship project of the Japan-ASEAN cooperation.
He closed his message by expressing Japan's utmost appreciation to Vietnam as the 2020 ASEAN Chair as well as for serving as Japan's Country Coordinator in ASEAN and convinced Japan's commitment to work hand in hand with Thailand, which will be Japan's new Country Coordinator from August this year onwards, to support Brunei Darussalam, the 2021 ASEAN Chair.