ASEAN We Score: Break Records, Make History!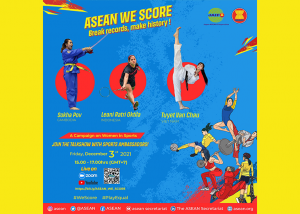 25 November 2021
-
Gender-based discrimination and stereotypes are still common in sports. The ASEAN Secretariat is inviting the public to participate in the "ASEAN We Score" campaign to dismantle this issue. As part of this initiative, it will hold a talk show with sport ambassadors on Friday, 3 December 20210 at 15.00-17.00 (GMT+7).
The talk show will engage Olympians, Paralympians and sports professionals to discuss about women's and girls' achievements and leadership in a male-dominated field such as:
Sokha Pov, World Vovinam Championship gold medalist from Cambodia.
Leani Ratri Oktila from Indonesia, gold medalist for para-badminton in the women's doubles SL3–SU5 at Tokyo 2020 Paralympics.
Tuyet Van Chau from Viet Nam, consecutive gold medalist for Taekwondo at the SEA Games.
It will be aired on the ASEAN Secretariat's YouTube Channel: https://www.youtube.com/watch?v=PpITAUACQmU
This event is part of the ASEAN-JAPAN Actions on Sports supported by the Government of Japan through Japan-ASEAN Integration Fund (JAIF).