A Story from ACE Programme Batch 7 Participant: M. Sheedy Bin Sies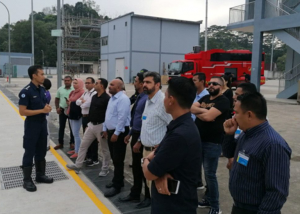 09 February 2022
-
Having the opportunity to exchange knowledge and experiences with professionals in various areas of disaster management from the ten ASEAN countries is one of the precious lessons that Sheedy bin Sies will always remember from the AHA Centre Executive (ACE) Programme. Sheedy is Staff Officer for Operations Resources in the Logistics Department of the Singapore Civil Defense Force (SCDF) who took part in the Batch 7 of ACE Programme. "The ACE Programme participants have made me realise that our dedicated pool of disaster-management practitioners is the best asset that we have in building a disaster-ready and disaster-resilient ASEAN", he claimed.
Read more stories from Sheedy on how he enjoyed the learning process during the programme at https://thecolumn.ahacentre.org/posts/aha-centre-diary-1/vol-79-m-sheedy-bin-sies/
The programme is part of the AHA Centre Executive (ACE) Programme 2018-2020 supported by the Japan-ASEAN Integration Fund (JAIF).