ACB's Post-Training Evaluation Workshop and Writeshops on the Development of the Training Manual and Field Guidebook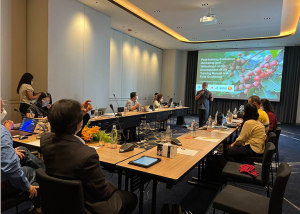 22 September 2022
-
Taxonomic experts from different ASEAN Member States are attending the Post-training Evaluation Workshop and Writeshops on the Development of the Training Manual and Field Guidebook taking place in Bangkok, Thailand.
The event, organised by the ASEAN Centre for Biodiversity (ACB) in partnership with the Department of Environment and Natural Resources Biodiversity Management Bureau, is part of the Taxonomic Capacity Building on DNA Barcoding of Common Vascular Plants in the Tropics project that is implemented by the ACB with the support of the Japan-ASEAN Integration Fund (JAIF) and guidance from the ASEAN Secretariat and JAIF Management Team. Project partners also include the UP Diliman Institute of Biology and Makiling Center for Mountain Ecosystems.
The workshop and writeshop will finalise the Manual on DNA Barcoding of Vascular Plants of Southeast Asia and Field Guide to Vascular Plants of the Mudspring area, Mount Makiling Forest Reserve, which will be launched during the Seventh ASEAN Heritage Parks Conference.