Additional Collection in ASEAN Cultural Heritage Digital Archive Website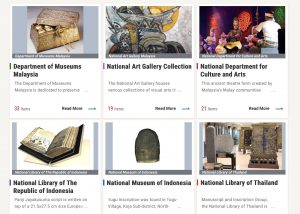 19 February 2021
-
There's something for everyone on the ASEAN Cultural Heritage Digital Archive website!
Interested in visual arts? Check out Balai Seni Negara's selection of paintings, mixed media, sculptures, and installation art. Prefer to browse ethnological and archaeological items? Then browse the collections of Jabatan Muzium Malaysia, Museum Nasional Indonesia and Perpustakaan Nasional.
Antique furniture enthusiasts will enjoy National Library of Thailand's assortment of cabinets, while traditional theatre lovers are sure to appreciate Jabatan Kebudayaan dan Kesenian Negara's Makyung collection. More cultural heritage items from Indonesia and Thailand will be added soon. Keep checking the #ACHDA website so you don't miss it!
The ASEAN Cultural Heritage Digital Archive (ACHDA) project is supported by the Government of Japan through the Japan-ASEAN Integration Fund (JAIF)