AJCCBC Survey on COVID-19 Situation and Cybersecurity Trainings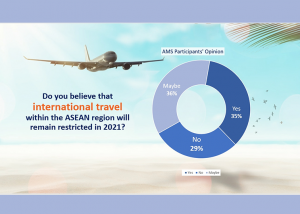 04 August 2021
-
Upgrading cybersecurity manpower skills to be ready to deal with ongoing online threats. It is another important strategy in the operation of ETDA, in addition to having the Thailand Computer System Security Coordination Center (ThaiCERT) that serves to alert and give advice on how to deal with cyber threats to the organization and the CERT network. Globally, ETDA has also been commissioned to operate the ASEAN-Japan Cybersecurity Capacity Building Centre (AJCCBC) with support from the Government of Japan through Japan-ASEAN Integration Fund (JAIF) since 2018 to develop cybersecurity personnel of 10 ASEAN Member States.
However, due to the COVID-19 Pandemic situation, AJCCBC's training and activities must change to online format. Most recently, in June, AJCCBC conducted a survey ′"AJCCBC Survey on COVID-19 Situation and Cybersecurity Trainings" to assess training needs and opinions on the current COVID-19 situation:
The survey was completed by 103 AMS respondents from cybersecurity fields and AJCCBC alumni on 18th June 2021. The result suggests that:
71% rather believe that international travel within ASEAN region will be restricted in 2021.
77% rather believe that the COVID-19 situation will be under control within 2021.
51% support the idea of having trainings and Cyber SEA Game conducted online.
42% consider online activities to be sufficiently effective.
The result of the survey would be considered in conducting the next trainings.