Ambassador Chiba's Participation in the Virtual Launch of the ASEAN State of Climate Change Report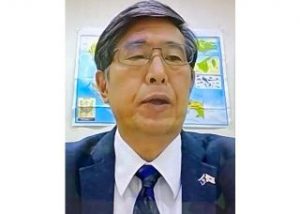 21 October 2021
-
On 7 October 2020, H.E. CHIBA Akira, Ambassador of Japan to ASEAN, attended the Virtual Launch of the ASEAN State of Climate Change Report (ASCCR) and Kick-off Meeting for the Development of the 6th ASEAN State of Environmental Report. Approximately 100 people joined the ceremony including H.E. Kung Phoak, the Deputy Secretary-General of ASEAN (Social-Cultural Community), ASEAN Senior Officials on Environment, and a number of representative and experts from ASEAN Dialogue Partners.
Ambassador CHIBA remarked, "As the first global stocktaking will take place in 2023 to assess the collective progress towards achieving the purpose of the Paris Agreement, it is highly meaningful that ASCCR has been launched, prior to such a critical juncture." He also expressed his expectation that various activates and efforts to advance environmental sustainability will take place even more in the region.
Both of these two reports are being developed by the ASEAN Secretariat in cooperation with the Japan Institute for Global Environmental Strategies (IGES), with support from the Japan-ASEAN Integration Fund (JAIF).
The ASEAN State of Climate Change Report can be accessed here: https://asean.org/wp-content/uploads/2021/10/ASCCR-e-publication-Final-12-Oct-2021.pdf