Ambassador Sunaga's Participation to the Opening Ceremony of ACE Programme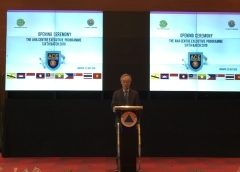 29 July 2019
-
On July 22, H.E. Kazuo Sunaga, Ambassador of Japan to ASEAN, attended the Opening Ceremony of The ASEAN Coordinating Centre for Humanitarian Assistance on disaster management (AHA Centre) Executive Programme (ACE Programme) Sixth Batch held in Jakarta, and welcomed the 18 new participants. The ceremony was attended by H.E. Dato Lim Jock Hoi, Secretary-General of ASEAN, Ms. Adelina Kamal, Executive Director of the AHA Centre, and Ambassadors of ASEAN dialogue partners.
At his opening remarks, Ambassador Sunaga told that it is grateful to witness the participation from all 10 ASEAN Member States for the first time and expressed his hope that the participants will become a big supporter of the AHA Centre as executive officers of national disaster management offices (NDMOs) in the future.
The ACE Programme is an over four-month training for future leaders of NDMOs in ASEAN countries conducted by the AHA Centre. The Programme is supported by the Government of Japan through the Japan-ASEAN Integration Fund (JAIF). The Programme commenced in 2014, and the Sixth Batch has just commenced.