As Typhoons Hit the Region ASEAN is Prepared to Respond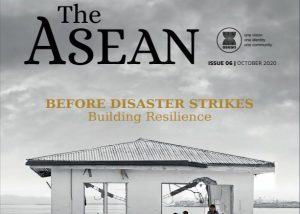 06 November 2020
-
Super Typhoon Goni slammed the northeastern coast of the Philippines on the first day of November. The country's National Disaster Risk Reduction and Management Council (NDRRMC) reports that as of 4 November, the typhoon had caused at least 20 deaths and affected more than two million people in 12 regions. Another powerful typhoon, Molave, had lashed the Philippines just days prior, and residents were bracing for the worst. As early as 31 October, the NDRRMC was on red alert, and the ASEAN Coordinating Centre for Humanitarian Assistance on disaster management (the AHA Centre) prepared for a potential response. Stockpiles were ready to be deployed from the Disaster Emergency Logistics System for ASEAN (DELSA) warehouse based in Manila.
Typhoon Goni's path of destruction continues to the Mekong Delta region, which also had been earlier hit by Molave and three other storms, all in just one month—Linfa, Nangka, Saudel. Linfa caused flooding and destruction in Lao PDR, while Saudel brought flash floods to 19 provinces in Cambodia. Viet Nam has been hit by all four typhoons, with Molave the strongest it has felt in two decades. The AHA Centre responded by delivering aid and relief goods that had been stored in a DELSA warehouse in Subang, Malaysia. More severe weather disturbances are expected in the region as a result of climate change and other environmental factors. It is crucial for ASEAN to build on preparedness, early warning systems, response measures, and resilience in communities that face the wrath of ferocious typhoons.
The Establishment of a Disaster Emergency Logistic System for ASEAN (DELSA) – Phase II: Satellite Warehouse is supported by the Government of Japan through Japan-ASEAN Integration Fund (JAIF)
Article is available for download on The ASEAN Magazine – Issue 6, October 2020, page 8-9.