ASEAN and Timor-Leste Youth: JENESYS Youth Sports Exchange (Rugby)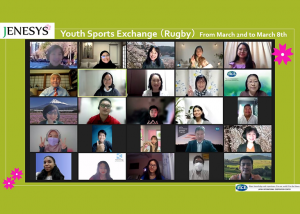 09 March 2022
-
The Japan International Cooperation Center (JICE) held JENESYS all online program for youths from ASEAN and Timor-Leste from 2-8 March 2022. This program aimed to promote people-to-people exchange through sports, especially rugby football. JICE cooperated with Japan Rugby Football Union (JRFU) to implement this program. More than 55 young people of university/graduate students and working adults were joined and divided into 9 groups with various nationalities mixed.
On Day 1, Mr. MUKOYAMA Masatoshi, Associate Professor at Ryutsu Keizai University and also the Head of International Cooperation Division of Rugby Development Committee at JRFU, gave a lecture on educational values of rugby football
On Day 2, besides group activities, Ms. NOGUCHI Aya (a member of International Cooperation Division of Rugby Development Committee at JRFU) and Ms. INOUE Yuiko, co-directors of S.C.P. Japan (Sport for Creating Pathways Japan) gave the participants lectures on gender and safeguarding in sports.
On Day 3, Mr. MANABE Hiroshi and Mr. NAKAYAMA Atsushi (Ace) from CANYCOM introduced Tambo Rugby (rugby on paddy fields). In addition, Dr. OZEKI Nobutake of Tokyo Medical and Dental University talked about reducing sports disorders in growing athletes.
On Day 4, all 9 groups of participants gave presentations about what they learned during the program and Mr. NAGATA Tamekuro, Senior Manager of Rugby Development Division at JRFU, gave comments on their presentations.
JICE as the organiser thanked JRFU and those who helped implementing the program, as well as all participants. Participants' effort to actively participate in the program amid the situation under the COVID-19 pandemic was really appreciated.
This program is part of the Japan's Friendship Ties Programs JENESYS2021 "Inbound, Outbound and Follow Up Project" supported by the Government of Japan through Japan-ASEAN Integration Fund (JAIF).