ASEAN Appoints Ten Sports Ambassadors to Promote Gender Equality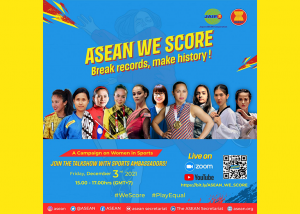 02 December 2021
-
Building on the legacy of the Tokyo 2020 Games, ASEAN appointed ten prominent athletes and sports officials as ASEAN Women in Sports Ambassadors. The ambassadors will use their influence to promote gender equality and women empowerment through sports, across the region and spread encouraging messages to the ASEAN Community through #WeScore Campaign. Through talk show that were conducted on 3 December 2021, the ambassadors touched on issues such as gender equality and women's leadership, safeguarding of women and girls in sports, promoting the rights of persons with disabilities through sports, as well as the impacts of COVID-19 on sports and how to address it.
ASEAN #WeScore campaign forms part of the ASEAN-Japan Actions on Sports, a project under the ASEAN Plus Japan Senior Officials Meeting on Sports (SOMS+Japan) funded by the Government of Japan through the Japan-ASEAN Integration Fund. Prior to the talk show, the ASEAN Secretariat held a Tribute to Tokyo 2020 ASEAN Olympic and Paralympic Medallists.
A recorded version of the talk show is available on the ASEAN Secretariat's YouTube Channel: https://www.youtube.com/watch?v=PpITAUACQmU
This news is also broadcasted on numerous media including Thailand Business News, Thailand's ASEAN Information Center, Vietnam Plus, and Worldakkam.