ASEAN concludes consultative meetings on mine risk education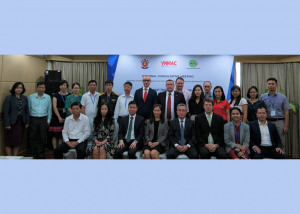 16 September 2019
-
ASEAN Regional Mine Action Centre (ARMAC) concluded the final of a series of national consultative meetings in Hanoi on 16 September as part of the project to develop comprehensive and integrated approach to mine risk education that can be used throughout the region.
Supported by the Government of Japan through the Japan-ASEAN Integration Fund (JAIF), the meetings brought those affected by mines and explosive remnants of war (ERW) together to share their knowledge and experiences to raise public awareness about the danger of landmine and ERW.
Looking forward, a side event will be held during the Fourth Review Conference on a Mine-Free World on 25-29 November this year in Oslo, Norway, so as to establish a platform for ASEAN countries to form a collaborative community of MRE experts and stakeholders. Ultimately, it is hoped that through these consultative meetings, research and other activities undertaken through the project, the number of victims of mines/ERW can be minimised and in so doing the socio-economic impact of mines is reduced and sustainable development outcomes are improved.