ASEAN focuses on conservation of wetlands and protection of migratory waterbirds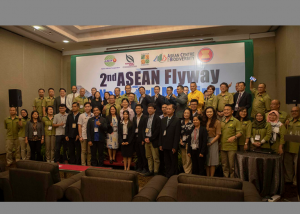 13-15 May 2019
-
Improving conservation of wetlands and protection of migratory birds took centre stage during the Second Meeting of the ASEAN Network on Wetlands and Migratory Water Birds Conservation (ASEAN Flyway Network) held from 13 to 15 May 2019 in Kuching, Sarawak, Malaysia.
The ASEAN Flyway Network (AFN), composed of national focal points, flyway site managers, experts, and other key stakeholders, was established by the ASEAN Member States, serving as a virtual network that facilitates regional cooperation to ensure the conservation of the migratory waterbirds and the wetlands that support them along the East Asian-Australasian Flyway.
The AFN meeting in Kuching provided an opportunity for implementers of the project on Improving Biodiversity Conservation of Wetlands and Migratory Waterbirds in the ASEAN Region, an initiative supported by the Japan-ASEAN Integration Fund (JAIF) and the ASEAN Centre for Biodiversity (ACB), and led by the National Parks Board (NParks) of Singapore.
Other What's New