ASEAN Forum on 24-25 May 2021, Humanitarian & Emergency Logistics Innovation Expo (HELIX) 2021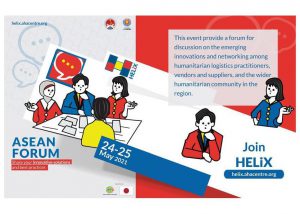 24 March 2021
-
The ASEAN Forum will take place on 24-25 May 2021.This event will provide a forum for discussion on the emerging innovations and networking among humanitarian logistics practitioners, vendors and suppliers, and the wider humanitarian community in the region.
Visit https://helix.ahacentre.org for more info and registration!
The event is supported by Japan-ASEAN Integration Fund (JAIF) through The Establishment of a Disaster Emergency Logistic System for ASEAN (DELSA) – Phase II: Satellite Warehouse project which is currently underway.