Webinar on Japan-ASEAN Cooperation based on the ASEAN Outlook on the Indo-Pacific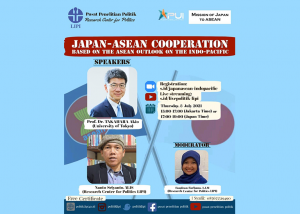 12 July 2021
-
The Mission of Japan to ASEAN and the Indonesian Institute of Sciences (LIPI) co-hosted a webinar on "Japan-ASEAN Cooperation based on the ASEAN Outlook on the Indo-Pacific" on Thursday, 8 July from 15:00 to 17:00 (Jakarta Time).
H.E. CHIBA Akira, Ambassador of Japan to ASEAN and Prof. Firman Noor, Head of LIPI gave opening remarks. Dr. TAKAHARA Akio from the University of Tokyo and Mr. Nanto Sriyanto from LIPI joined the webinar to provide the audience with their insights on the future cooperation between Japan and ASEAN.
Those in the audience were given certificates of attendance, signed by the hosts.
The ASEAN Outlook on Indo-Pacific (AOIP) has many fundamental principles that are shared with Japan's policy and Japan is committed to continue their support to Japan-ASEAN cooperation through Japan-ASEAN Integration Fund (JAIF).
Recorded version of live webinar is available on LIPI's channel: https://www.youtube.com/watch?v=yo-k0tYXdFI
Other What's New