ASEAN-Japan Cybersecurity Workforce Survey 2021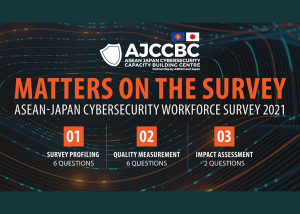 23 August 2021
-
ASEAN-Japan Cybersecurity Workforce Survey 2021 has been conducted to identify cybersecurity workforce demand within ASEAN region with 14 questions.
The survey was available for 13 days from 27 July through 10 August 2021 and completed by 76 ASEAN-Japan Cybersecurity Capacity Building Centre (AJCCBC) alumni from every ASEAN Member State. The AJCCBC highly appreciates the participation from respondents for being part of creating a more robust cyber space together.
The AJCCBC was established with support from Government of Japan through Japan-ASEAN Integration Fund (JAIF).