ASEAN, Japan reaffirm commitment to take partnership to new heights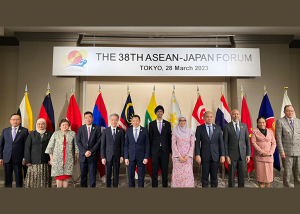 28 March 2023
-
Senior Officials of ASEAN and Japan attending the 38th ASEAN-Japan Forum in Tokyo reaffirmed their commitments to further advance the partnership and strengthen cooperation, as both sides mark the 50th Anniversary of Dialogue Relations this year.
The meeting highlighted the substantive progress made in ASEAN-Japan cooperation in all pillars over the past year, and discussed deliverables for the 50th anniversary, in particular, the preparation for the ASEAN-Japan Commemorative Summit to be held in Tokyo in December 2023.
The meeting also welcomed the establishment of the Japan-ASEAN Integration Fund (JAIF) 3.0 with a contribution of US$100 million from Japan. JAIF 3.0 is a deliverable targeted for the partnership's 50th anniversary to support various initiatives especially the activities relating to the implementation of the key areas of AOIP.
The press release from the Ministry of Foreign Affairs of Japan for the 38th Meeting of the ASEAN-Japan Forum is available here.