ASEAN, Japan Women Footballers Hold Friendly Match to Commemorate 50-Year Cooperation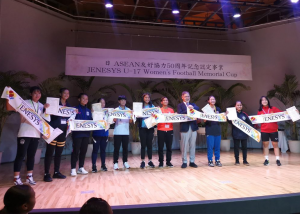 27 March 2023
-
Over 270 young footballers from the U-17 women's team from ASEAN Member States, Timor Leste, Uruma City Select Team and from the U-16 Japan National Team participated in the JENESYS-U17 Women Football Memorial Cup. The memorial cup was held on 14-25 March to commemorate the 50th year of ASEAN-Japan cooperation.
The cup brought together 12 teams with Japan emerging as the champion and Viet Nam and Thailand as the respective first and second runners-up.
Apart from competing in the match, the players also attended a lecture by the Japan Football Association on Japan Women's Empowerment Professional Football League (WE League), the country's first professional women's football league that aims to promote an inclusive society through women's football. Through the lecture, the young players were introduced to the WE League's background, purpose, and its vision to be a societal role model in promoting equity, diversity, and inclusion in the workplace and beyond.
The entire programme provided a venue for the young players to further understand the pivotal role of youth and women in the sports sector and promoted mutual trust and cross-cultural understanding among the ASEAN and Japanese youth.
The commemorative event was organised as part of the JENESYS2022 project. Supported by the Government of Japan through the Japan-ASEAN Integration Fund (JAIF) since 2007, JENESYS has enhanced people-to-people interaction, intercultural awareness, and mutual understanding between ASEAN and Japan youth.
Other Whats New