ASEAN-Japan Workshop on Promoting Gender Equality in Sport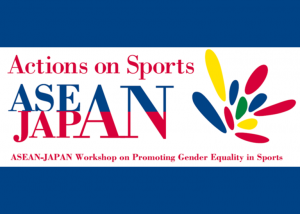 15 July 2021
-
In 2017, ASEAN and Japan held the First ASEAN Plus Japan Ministerial Meeting on Sports (AMMS+Japan) to foster a strong sense of resilience and building solidarity with the peoples of ASEAN region and Japan by promoting a healthy lifestyle and developing close people‐to‐people ties through sports.
Following this High‐Level commitment, Japanese Center for Research on Women in Sport (JCRWS) at Juntendo University (Executive Director: Etsuko Ogasawara) is pleased to announce the convening of "ASEAN‐JAPAN Workshop on Promoting Gender Equality in Sports", an action to promote gender equality in sports. As part of the ASEAN‐Japan Actions on Sports project, this event contributes to the implementation of ASEAN‐Japan cooperation in sports and ASEAN Work Plan on Sports 2021‐2025.
The workshop is made possible by ASEAN-Japan Actions on Sports project which is supported by the Government of Japan through Japan-ASEAN Integration Fund (JAIF).