ASEAN Launches the ASEAN Toolkit on Sustainable Consumption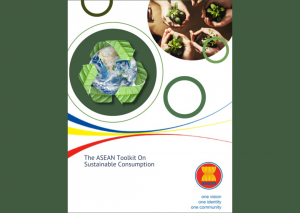 02 September 2022
-
The ASEAN Committee on Consumer Protection (ACCP) has launched the ASEAN Toolkit on Sustainable Consumption which comprises of tools and teaching materials aiming to enhance the understanding of government officials, consumer associations, and businesses, on the concept and policy implications of sustainable consumption.
Promoting Sustainable Consumption is in-line with the ASEAN Economic Blueprint (AEC) 2025, which recognizes the need to build higher consumer confidence including through the promotion of sustainable consumption. This strategic measure has been further elaborated under Goal 3 of the ASEAN Strategic Action Plan for Consumer Protection (ASAPCP) 2025 which aims at ensuring higher consumer confidence in the ASEAN Economic Community and cross-border commercial transaction.
The development of the Toolkit was led by the Department of Trade and Industry of the Philippines and funded by the Japan-ASEAN Integration Fund (JAIF) through the project Promotion of Sustainable Consumption in ASEAN.
Please visit the ACCP website  to download the Toolkit and the set of advocacy materials, and watch an attractive video about the sustainable consumption here: https://www.youtube.com/watch?v=7QmuUmtrJEs&t=8s
Other Whats New