ASEAN museums use 3D data to preserve items in online archive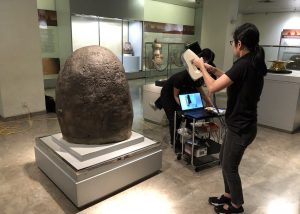 1 March 2020
-
Southeast Asia's museums, galleries and libraries are preserving their most fragile collection items using 3D data technology, making them available online for anyone who wants to take a close look. Anyone can visit the website, browse the items, and zoom in and turn the 3D items around to various angles. Items currently in the archive come from six institutions in Indonesia, Thailand and Malaysia, including the National Museum of Indonesia and the National Library of Thailand.
"I hope ASEAN citizens using the website will better appreciate the shared cultural heritage and instill in them a greater regional sense of belonging," said Deputy-Secretary General of the ASEAN Socio-Cultural Community Kung Phoak. Digitization contributes to the preservation of old, fragile items which represent valuable cultural heritage, said Katsuichi Sonoda, senior vice president of Japanese multinational system integration company NTT Data.
NTT Data, with the generous support of the Government of Japan through the Japan-ASEAN Integration Fund (JAIF), has provided its Advanced Museum Library Archives Deposit (AMLAD) system for digital archiving, which has been used for other facilities such as the Vatican Library. NTT Data said this was the first time it had provided a 3D archiving function.