ASEAN-RAI Regional Event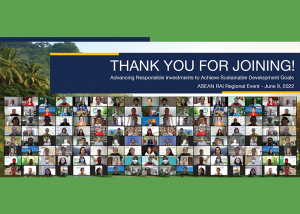 14 June 2022
-
On Thursday 9 June 2022, Grow Asia and their partners held a successful ASEAN-RAI Regional Event with 160+ participants dialing in.
Grow Asia as the host was thrilled to see a very diverse group of attendees, representing professionals from the private, public, and civil society sectors. The key takeaway from the event is that multistakeholder approach will drive transformative change in investment practices and policies in ASEAN.
For those who missed the event, the records can be accessed from the following resources:
Webinar Recording: https://bit.ly/3NRWLaz
Presentation Slides: https://bit.ly/3Of7xrq
The event was co-organised by International Institute for Sustainable Development and the ASEAN Secretariat. Grow Asia also thanked to their donors for supporting the implementation of the ASEAN-RAI, namely the Swiss Agency for Development and Cooperation, the UK Foreign, Commonwealth and Development Office, and the Government of Japan through the Japan-ASEAN Integration Fund (JAIF). The project on Creation and Testing of Learning and Accreditation Programme to Implement ASEAN-RAI Guidelines is currently underway.