ASEAN Symposium and Seminar on Japan Risk Management Plan (RMP) 2022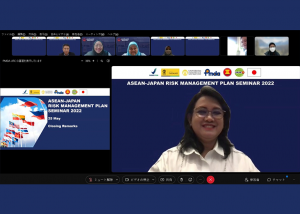 01 June 2022
-
The Indonesian National Agency of Food and Drug Control in collaboration with the Pharmaceuticals and Medical Devices Agency (PMDA) of Japan and the Faculty of Pharmacy – University of Indonesia held a virtual symposium and seminar on the Risk Management Plan (RMP) in the pharmaceutical sector on Monday, 23 May 2022.
This symposium and seminar are follow-up events of the collaboration between PMDA and the Pharmaceutical Product Working Group (PPWG), under the ASEAN Consultative Committee on Standards and Quality (ACCSQ), with funding from the Japan-ASEAN Integration Fund (JAIF).
The three-days event aimed to increase the capacity of regulators towards harmonisation of regulations in the pharmaceutical sector. It is also hoped the regulators will be able to continue the steps towards developing harmonious RMP standards and strengthen relations and increase cooperation between Japan and ASEAN countries, especially in the field of regulation of pharmaceutical products.