High Interest Participants in ASEAN-Japan Risk Management Plan (RMP) 2023, UI Collaboration with BPOM and PMDA Japan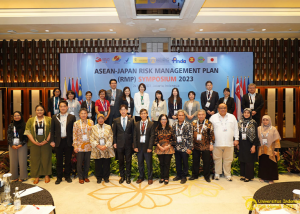 27 May 2023
-
The Faculty of Pharmacy, University of Indonesia (UI) in collaboration with Indonesian Food and Drug Authority (BPOM RI) and the Pharmaceuticals and Medical Devices Agency (PMDA) Japan held the ASEAN–Japan Risk Management Plan (RMP) Symposium and Seminar 2023 on 24-26 May 2023 at the Ayana Midplaza Grand Ballroom, Jakarta. This activity is funded by the Government of Japan through the Japan–ASEAN Integration Fund (JAIF) and supported by the ASEAN Secretariat (ASEC) with aims to enhance efforts to harmonise drug regulations among the ASEAN Member States.
Ambassador of Japan to ASEAN, H.E. KIYA Masahiko expressed his appreciation to UI, BPOM RI, and PMDA Japan for organising this symposium and thanked all speakers who had participated. According to Ambassador Kiya, this event is a good opportunity for parties from ASEAN and Asia to take part in efforts to advance world health.
The entire project between ASEAN and Japan will focus on advancing global harmonisation activities on pharmaceutical regulations related to medicinal products. When country-specific regulations apply, additional tests and inspections may be required before the product can be approved. This lengthens the review period and increases costs, even causing delays in patient access to drugs. Therefore, the harmonisation of pharmaceutical regulations plays an important role in eliminating technical barriers in drug distribution without reducing the quality or safety of drugs. It is the responsibility of world regulators to ensure fast and appropriate access. With this joint effort, Deputy Chairperson of BPOM RI Dra apt Togi Junice Hutadjulu MHA is optimistic that symposium participants from ASEAN member countries will benefit from the latest information from experts and experiences shared in this symposium.
The articles about the event are also published on Indonesia's news websites namely Suara Nusantara and Warta Apoteker.