Key Takeaways from ASEAN Talk Show on Women in Sports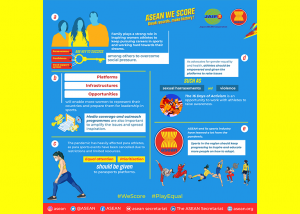 08 December 2021
-
On 3 December 2021, the ASEAN Secretariat hosted ASEAN Talk Show on Women in Sports engaging ten women sports ambassadors.
Below are the three key takeaways from the discussion:
– Perseverance, confidence, and a good support system are essential.
– Media coverage and enabling ecosystem boost women athlete's accomplishment and leadership.
– Equal attention to the para-athlete is crucial.
The talk show is part of the ASEAN-Japan Actions on Sports which is supported by the Government of Japan through the Japan-ASEAN Integration Fund (JAIF).
A recorded version of the talk show is available on the ASEAN Secretariat's YouTube Channel: https://www.youtube.com/watch?v=PpITAUACQmU
Highlights of the talk show are also available here and here.