Book Launch of the Outcome of ASEAN-IPR Research – Aceh Case: Peace Building and Post Tsunami Recovery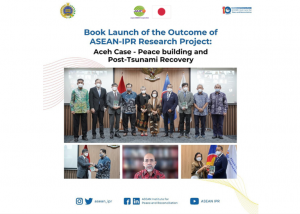 30 June 2022
-
More than 50 participants attended a Book Launch of the ASEAN Institute for Peace & Reconciliation's (ASEAN-IPR) Research Project, "Aceh Case: Peace Building and Post-Tsunami Recovery", on Monday, 27 June 2022. The launch was done in hybrid format with in-person participants attending at the Training Centre of the Ministry of Foreign Affairs of Indonesia while those participating virtually joined through Zoom Meeting platform. This is the Institute's second ever research project and was supported by the Mission of Japan to ASEAN through the Japan-ASEAN Integration Fund (JAIF).
In his opening remarks, the Representative of Indonesia to the ASEAN-IPR Governing Council, H.E Umar Hadi, underlined that the Research's main objective had been successfully achieved to find the roles of post-humanitarian actors with their further assistance in peacebuilding.
Ambassador of Mission of Japan to ASEAN, H.E CHIBA Akira, highlighted this publication as Japan's commitment to work closely with ASEAN to promote peace in the region. He underlined that the unprecedented disaster plays a role in building humanitarian approaches to peace and post-conflict resolution. He also highlighted that the implementation and distribution of humanitarian assistance in Aceh could be applied within the region and the world.
A short summary of this event is also posted on ASEAN Institute for Peace & Reconciliation -AIPR Facebook page:
https://web.facebook.com/asean.aipr/posts/pfbid02DFcWazjHhB19Qve9Kkro5bXiGVKP8Vrnf22KfDeZzcJqrMkZctLj4jSKZ9RVbcoUl?_rdc=1&_rdr