The Indonesian Representative to the Advisory Board of the ASEAN-IPR Paid a Visit to the Mission of Japan to ASEAN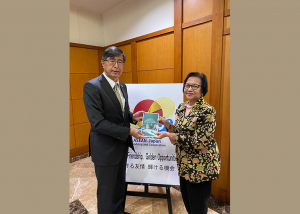 16 November 2022
-
The Indonesian Representative to the Advisory Board of the ASEAN-IPR, Ambassador Artauli RMP Tobing, paid a visit to the Mission of Japan to ASEAN on Monday, 7 November 2022. With warm welcome by Ambassador Chiba Akira, Ambassador Artauli handed a book launched by the ASEAN-IPR, titled "Aceh Case: Peacebuilding and Post Tsunami Recovery" to Ambassador Chiba.
The Mission of Japan to ASEAN, through the Japan-ASEAN Integration Fund (JAIF), supports the research and study of peacebuilding and post-conflict recovery through the post-tsunami recovery case in Aceh. The purpose of the research is to find the roles of post-humanitarian actors with their further assistance in peacebuilding, and the publication is one of the pillars in celebrating the successful outcome of the research.
The book launch event was conducted on 27 June 2022 and it is available for download on ASEAN-IPR website.