Bringing ASEAN to the People, One Story at a Time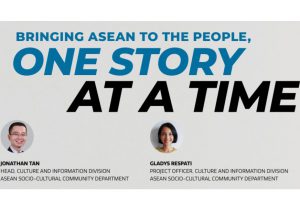 29 December 2020
-
ASEAN is the third largest economy in Asia and the fifth largest in the world, boasting a combined GDP of 3 trillion US dollars. Impressive as these numbers sound, the public may not be aware of or fully understand the tireless work that ASEAN does to address challenges and capture opportunities to turn the region into the economically dynamic and vibrant force that it is today. The peace and stability that the region is experiencing as a result of countries' concerted efforts is also likely underappreciated by the public.
The 2018 ASEAN Awareness Poll, commissioned by the ASEAN Secretariat and supported by the Government of Japan through the Japan-ASEAN Integration Fund (JAIF), reveals stark realities. While the overall public awareness of ASEAN is high at 96 per cent, fewer than one-third of respondents have extensive knowledge and understanding of ASEAN. Moreover, only half of the respondents perceive ASEAN to be communicating effectively, while a majority of businesses and civil society organisations found ASEAN lacking in terms of meeting their information needs.
Effective branding of an organisation requires creating compelling narratives that resonate with and engage people. It requires more than just content development and dissemination, but most importantly, how such content is pitched and amplified through its engagements with the people. Cognisant of the importance of effective communications and storytelling, the ASEAN information sector has put in place the ASEAN Communication Masterplan II 2018-2025 which governs how ASEAN engages, informs, and interacts with its citizens.
Article is available for download on The ASEAN Magazine – Special Edition, November-December 2020, page 73-74.