Webinar on World Documentary Archives, Memories and Heritage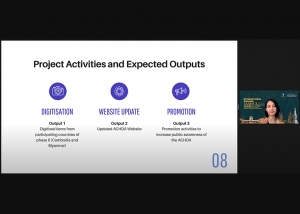 23 November 2021
-
Archives, memories and world documentary heritage became the main topics on the first day's discussion of the Southeast Asian Branch of International Council on Archives (SARBICA) International Seminar 2021.
In this webinar, Gladys Respatih, Project Officer of the ASEAN Cultural Heritage Digital Archives (ACHDA), revealed that the digitisation process of cultural wealth was carried out to support public promotion of the existence of local culture that has the potential to become a global historical treasure.
The public can access ACHDA at the link https://heritage.asean.org/ where the digitised results of hundreds of archives with high historical value are available. Several activities are carried out continuously by ACHDA including digitisation, portal updates and promotions.
"In the digitisation process itself, there are several stages that must be carried out, including selecting institutions and items to be digitised. Secondly, conducting an assessment and digitisation. Then finally, producing metadata and promoting the digitization results. Some of the item requirements that will be included in the digitisation selection process include location, size and characteristics," said Gladys.
ACHDA also presents exhibitions in the form of e-exhibitions aimed at providing an attractive online exhibition appearance, by presenting local stories in the form of images/photos, sound, and videos.
The ASEAN Cultural Heritage Digital Archive (ACHDA)- Phase 2 project is supported by the Government of Japan through the Japan-ASEAN Integration Fund (JAIF).