Chula-ASEAN Corner 2ndTalk: Rider Welfare Issues in the Platform Economy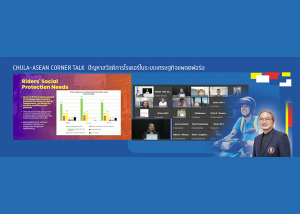 09 August 2022
-
On 12 July 2022, Chula-ASEAN Corner 2ndTalk held at Chulalangkorn University presented the research of Rider Welfare Issues in the Platform Economy.
Akkanut Wantanasombut, a researcher at Chulalongkorn University's Institute of Asian Studies, described his research results on 435 food riders in the food delivery service business in Bangkok and some provinces in Thailand. The food delivery business in Thailand was growing in the raging pandemic, meanwhile, the entailing issues in social welfare, unfair employment, deputing between platforms and food riders, and vague labor laws emerged.
The statistics from this research show that 45% of food riders tend to work overtime for more than 60 hours per week; 33.5 % ever get into accidents while working due to attempts at shortening delivery time, usage of applications and GPS on mobile when riding, and unfamiliarity with maps, etc. These issues lead to self-compensated medical care resulting from the ambiguous relationship between the platform companies and food riders, and the riders' status also worsens the issues because they are not part of the formal labor system.
The research result reflects the food rider's needs from the company and government in better social welfare, health insurance, and minimum income guarantee as the baseline of their payment and benefit regardless of their service areas as each area has different costs of operation. For the part of the government, the service riders need laws or policies to protect and regulate the labor in platform businesses equal and indiscrimination to other occupations.
The article in Thai is also available here:
https://www.car.chula.ac.th/activity_detail.php?id=370&fbclid=IwAR16kXAtM3DttTDGQ8FLzlf82Xrz61EhFzoaTRajb5-TJlN96qAKR-XILic
Chula-ASEAN Talk is part of ASEAN Corner in Universities (Phase 1) project supported by the Government of Japan through the Japan-ASEAN Integration Fund (JAIF).