Chula-ASEAN's Day Seminar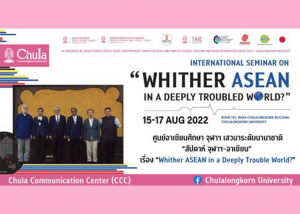 18 August 2022
-
On 15 August 2022, the Center for ASEAN Studies, Chulalangkorn University, held an International Seminar during the Chula-ASEAN Week, entitled "Whither ASEAN in a Deeply Troubled World?"
The Chula-ASEAN Week was held on 15-17 August 2022 in hybrid form, both online and on-site at Mahachulalangkorn Building.
Watch the videos of seminars from the following links:
(Morning session) Hierarchies of Weakness: What's Next for ASEAN?
(Afternoon session) Understanding ASEAN's Future Challenges: Stakeholders' Perspectives
(Morning session) ASEAN and Conflict Management and Response
(Afternoon session) Enhancing Unarmed Civilian Protection (UCP) in ASEAN
This event is part of ASEAN Corner in Universities (Phase 1) project supported by the Government of Japan through the Japan-ASEAN Integration Fund (JAIF).