The ASEAN Corner in Universities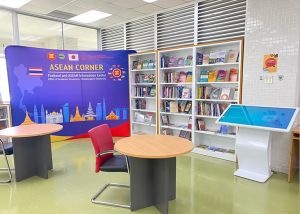 06 July 2022
-
The ASEAN Corner in Universities is a pilot programme to establish information centres in the libraries of higher education institutions in the ASEAN Member States. The ASEAN Corners will provide authoritative information about ASEAN through multi-media resource collections e.g. books, maps, digital information, language instructions, infographics, periodicals such as The ASEAN magazine, reports, statistics, etc. covering a wide range of topics (political-security, economic, and socio-cultural).
The ASEAN Corners will thus serve as a knowledge hub for students and academics, and further promote ASEAN awareness and identity. Each corner will also have a dedicated computer terminal or handheld device. Those who are interested are encouraged to visit at the Thailand and ASEAN Information Center (TAIC) Central Library on the 6th floor.
The ASEAN Corner in Universities (Phase 1) project is supported by the Government of Japan through the Japan-ASEAN Integration Fund (JAIF). Ten member universities of the ASEAN University Network (AUN) including Chulalongkorn University are participating in this project.