Co-Chairs' Statement on the Twentieth ASEAN and Japan Transport Ministers Meeting (20th ATM + Japan)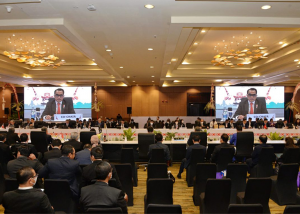 17 October 2022
-
The 20th ASEAN and Japan Transport Ministers Meeting (20th ATM+Japan) was held on 17 October 2022 in Bali, Indonesia. The Meeting was co-chaired H.E. Mr. Budi Karya Sumadi, Minister of Transportation of Indonesia and H.E. Nishida Shoji, Parliamentary Vice-Minister of Land, Infrastructure, Transport and Tourism of Japan.
ASEAN Member States welcomed the announcement of Japan to support the various activities based on the Kuala Lumpur Transport Strategic Plan 2016-2025 in the areas of air transport, land transport, maritime transport, sustainable transport and transport facilitation through projects and activities under the ASEAN-Japan Transport Partnership (AJTP) in a comprehensive and sustained manner.
The Meeting endorsed the ASEAN-Japan Transport Partnership (AJTP) Work Plan for 2022-2023 which would further enhance regional connectivity. Among the list of projects/activities in the AJTP Work Plan, the ongoing projects Advanced Personnel Training Program for Vessel Traffic Service (2020-2021) and Joint Hydrographic Survey of the Straits of Malacca and Singapore are supported by the Government of Japan through the Japan-ASEAN Integration Fund (JAIF).