Initiatives for Free and Open Oceans (Support for Capacity Building such as VTS)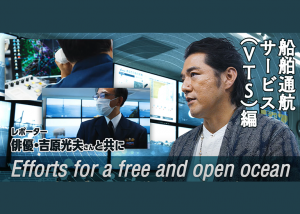 15 March 2023
-
The Ministry of Foreign Affairs (MOFA) of Japan released a series of documentary videos on "Japan's ". This is a documentary video that closely follows Official Development Assistance (ODA)'s activities in the field related to the sea. Actor Mitsuo Yoshihara is featured as a reporter, and his interviews with the people involved provide an insight into the activities of ODA. The video on "Safety of Maritime Traffic (Support for Capacity Improvement of Vessel Traffic Service (VTS), etc.)" shows how VTS provides necessary information and centralized navigation control to ships using radar and Very High Frequency (VHF) radio for the purpose of improving safety of maritime traffic and easing traffic congestion in congested sea areas, plays an important role. VTS plays an important role. In recent years, the needs for VTS centres have been increasing due to changes in the actual conditions of vessel traffic, especially in the ASEAN countries as their economies grow.
The Government of Japan through the Japan-ASEAN Integration Fund (JAIF) supported the VTS projects for ASEAN namely Development of VTS Operator's Capacity and Advanced Personnel Training Program for Vessel Traffic Service.
The trailer of the documentary was launched on 17 January 2023.
Watch also the video on "Initiatives for a Free and Open Ocean (Capacity Building Support for Charting)" which covers another JAIF supported project Joint Hydrographic Survey of the Straits of Malacca and Singapore.