Concepcion Elated as ASEAN Leaders Prioritise MSMEs Digitalisation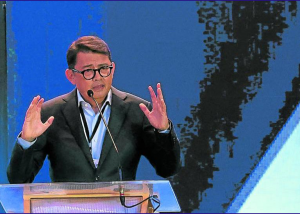 14 November 2022
-
Entrepreneurship is a key driver of the ASEAN economy, and their digitalisation will be vital in achieving inclusive growth in the region. This appeared to be the view of the ASEAN leaders as it wrapped up two days of top-level meetings at the ASEAN 2022 Summit in Phnom Penh, Cambodia, according to Go Negosyo founder and ASEAN Business Advisory Council (BAC) Chair for the Philippines, Joey Concepcion.
Concepcion shared that digitalisation and cooperation are central to the regional mentorship program called the ASEAN Mentorship for Entrepreneurs Network (AMEN) program. AMEN aims to share best practices and know-how among MSMEs in the ASEAN. It is the legacy project of the Philippines's 2017 Chairmanship of the ASEAN, which also coincided with the 50th anniversary of the union.
"Our goal is to scale up our MSMEs through access to what we call the three Ms of MSME development – that is, mentorship, money and market – using both traditional and digital platforms," he said.
Phase 1 of AMEN was piloted in Indonesia, Malaysia, and the Philippines in 2019, with 127 entrepreneurs and 48 mentors participating. Phase 2 is now on its build up stage and is set to be implemented across the ASEAN. Both phases of the project were funded by the Government of Japan through the Japan-ASEAN Integration Fund (JAIF).
An article written by Concepcion titled "Creating an inclusive ASEAN economy" shares his experience and view about the importance of mentorship programme for achieving inclusive growth and creating more jobs in ASEAN, and bringing prosperity to all.