Conference to Discuss Project Implementation Status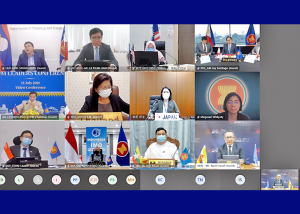 14 July 2021
-
His Excellency Awang Haji Mohammad Nazri bin Haji Mohammad Yusof, Permanent Secretary at the Ministry of Transport and Infocommunications (MTIC), attended the 19th ASEAN-Japan Senior Transport Officials Meeting (STOM) Leaders Conference on 13th July 2021 via video conference.
The 19th ASEAN-Japan STOM Leaders Conference was co-chaired by by Mr. Chheing Pich, Director-General, General Department of Logistics, Ministry of Public Works and Transport of Cambodia in his capacity as Chairman of the ASEAN Senior Transport Officials Meeting (STOM) in 2021 and Mr. Yamagami Noriyoshi, Director- General for International Affairs, Ministry of Land, Infrastructure, Transport and Tourism (MLIT) of Japan.
The conference discussed the implementation status of projects under the ASEAN-Japan Transport Partnership (AJTP) framework for the consideration of ASEAN and Japan transport ministers. These include deliverables for 2021 namely The Report under Proof of Concept (PoC) on ICT Solutions for Over-loaded Vehicle Control; and ASEAN-Japan Guidelines of Certification Audits for Cold Chain Logistics. The conference is in preparation for the 20th STOM+Japan and the 19th Meeting of ASEAN and Japan Transport Ministers (ATM+Japan) scheduled to be held next November.
The Proof of Concept (PoC) on ICT Solutions for Overloaded Vehicle Control is supported by the Government of Japan through Japan-ASEAN Integration Fund (JAIF).
See also related article from the Ministry of Transport and Infocommunications (MTIC) website: http://www.mtic.gov.bn/Lists/News/NewItemDisplay.aspx?ID=821