Deputy Secretary-General H.E. Kung Phoak's Visit to the Ministry of Foreign Affairs of Japan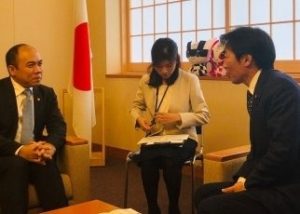 4 December 2019
-
On December 4th, Parliamentary Vice-Minister Nobuhiro Nakayama met with Deputy Secretary-General H.E. Kung Phoak (in charge of the ASEAN Socio-Cultural Community).
At the beginning, Parliamentary Vice-Minister Nakayama welcomed the visit of Deputy Secretary General Kung to Japan while referring to the "Japan-ASEAN Technical Cooperation Agreement and the Japan-ASEAN Integration Fund (JAIF), etc. As a mature partner, we would like to promote cooperation while sharing wisdom with each other toward 2023, which will mark the 50th anniversary of friendship." In response, DSG Kung expressed his appreciation for Japan's cooperation, including support through the JAIF, and expressed his expectation for further support by JAIF.
In addition, both sides frankly exchanged opinions on a wide range of fields ASEAN faces such as the aging society and the environment.