The 22nd AJCCBC Cybersecurity Technical Training on CYDER & Malware Analysis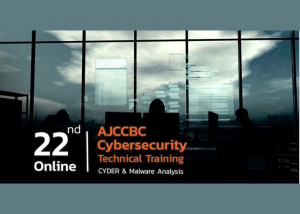 22 August 2022
-
With continued support from the ASEAN Member States and the Government of Japan, the ASEAN-Japan Cybersecurity Capacity Building Centre (AJCCBC) under the Electronic Transactions Development Agency (ETDA), Ministry of Digital Economy of Thailand successfully completed the 22nd AJCCBC Cybersecurity Technical Training, concentrating on Incident Response (CYDER) and Malware Analysis on 1 – 5 August 2022.
To create a more robust cybersecurity landscape within each ASEAN Member State, which would contribute to the region's stronger cybersecurity posture, the Centre invited 24 professionals from government agencies and critical information infrastructure operators of the member states to participate in the session.
It is hoped the lessons on incident response where the participants can upskill their ability to correspond against cyberattacks, and malware analysis from which they can learn how to assume the behaviour of malware and its impacts by surface, dynamic lock, and static analyses will be of a great benefit to the participants and to the region.
The AJCCBC is supported by the Government of Japan through the Japan-ASEAN Integration Fund (JAIF).