Filipino Franchising Expert Mentors in Brunei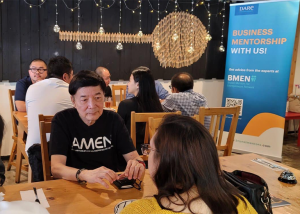 28 November 2022
-
Filipino franchising expert Armando "Butz" Bartolome was invited earlier in November 2022 by the Darussalam Enterprise (DARe) and Brunei Mentorship for Entrepreneurs Network (BMEN) to mentor entrepreneurs of Brunei.
Bartolome, who is part of the ASEAN Mentorship for Entrepreneurs Network (AMEN), conducted a three-day mentorship consultation with local Bruneian entrepreneurs, local mentors and members of DARe. He also held for BMEN mentors an exclusive session on how to further hone their mentorship skills.
To gain a full picture of entrepreneurship in Brunei, he visited businesses with potential for growth in franchising, namely Top Folk, Substation, Arquilato Kusina, Kontana, A-Ayam Chicken and Satay.
BMEN is Brunei's Public sector partner in the implementation of the AMEN, a program supported by the Japan ASEAN Integration Fund (JAIF) to promote mentorship as a means to grow MSMEs and achieve prosperity in the region.
Other Whats New