Gender Disparity in Cybersecurity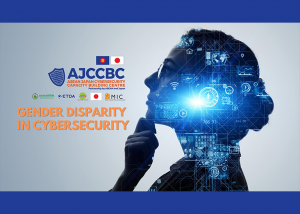 25 April 2022
-
We have seen positive changes in cybersecurity field in the last few years whether in terms of workplace flexibility, innovative and digital transformation enthusiasm, and many more. Moreover, according to the IMD Digital Competitiveness Ranking, the investments in science education, research, robotics, and high-tech exports in Eastern Asia have reached the highest rank compared to other regions. Despite the facts stated, one of the challenges as gender disparity in technology industry still has room for improvement.
There are possible ways to alleviate the challenge, ranging from protecting their rights and making them feel safe to be part of the community, setting up a cybersecurity educational training for women to support their career path, or launching an initiative for women in the area globally.
To be part of this, since the inception in 2018, the Centre has welcomed 193 female participants to AJCCBC activities, which account for 25% of the total participant number, and we are still on a mission to encourage the participation of female cybersecurity personnel by keeping the gate to trainings wide open for everyone.
The ASEAN-Japan Cybersecurity Capacity Building Centre (AJCCBC) was funded by Japan ASEAN Integration Fund with the aim to develop a cybersecurity workforce of 700+ over 4 years to enhance the capacity of cybersecurity experts and specialists in the ASEAN Member States by providing trainings and other activities to participants from the region.