The 18th AJCCBC Cybersecurity Technical Training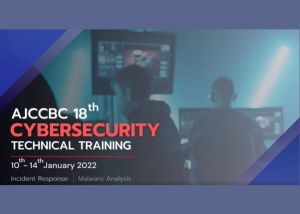 18 January 2022
-
The first ASEAN-Japan Cybersecurity Capacity Building Centre (AJCCBC) online training session of this year has come to an end. On 10 – 14 January 2022, AJCCBC, with the support of the Government of Japan and ASEAN, held the 18th AJCCBC Cybersecurity Technical Training, which is the 8th time in the online format, revolving around Incident Response and Malware Analysis.
Despite the epidemic disrupting the on-site trainings, 24 cybersecurity personnel from the public and critical information infrastructure (CII) sectors of ASEAN Member States have gained insights on how to secure their organizations and countries.
With the support from Japan-ASEAN Integration Fund (JAIF) through the project ASEAN-Japan Cybersecurity Capacity Building Centre (Step 2-2) which is currently underway, AJCCBC would be delighted to continue serving the cyber society in ASEAN by providing the technical training and other related activities with the great vigor in 2022 and in the coming years.