Heartfelt Condolences from the Mission of Japan to ASEAN on the Demise of Former Prime Minister of Japan, Mr. ABE Shinzo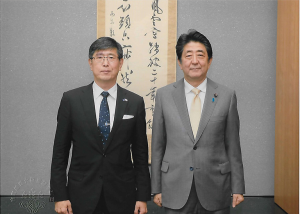 11 July 2022
-
On 8 July 2022, the Former Prime Minister of Japan, Mr. ABE Shinzo, passed away.
Possessing outstanding leadership and execution ability, Mr. ABE Shinzo, at the risk of his own life, took on the weighty responsibility of being prime minister. He did so over a total of eight years and eight months, the longest period in Japan's constitutional history.
In terms of supporting the Japan-ASEAN relations, Mr. ABE Shinzo pledged USD 100,000,000 through JAIF 2.0 component to strengthen cooperation for ASEAN integration. JAIF 2.0 is intended to support activities to achieve the objectives of the Vision Statement and its Implementation Plan adopted at the ASEAN-Japan Commemorative Summit in 2013.
Upon hearing the sudden news of his death, we cannot hold back our grief. Here, together with all of you, the Mission of Japan to ASEAN extend heartfelt condolences and pray that he rests in peace.