Highlights of JENESYS2022 Activities in December 2022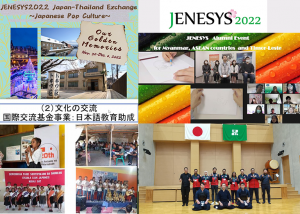 31 December 2022
-
JENESYS2022 aims to promote mutual trust and understanding among the peoples of Japan, ASEAN Member States, and Timor-Leste, to build a basis for future friendship and cooperation, as well as to encourage an understanding of various aspects of Japan. The project is supported by the Government of Japan through the Japan-ASEAN Integration Fund (JAIF). These are the highlights of JENESYS2022 activities conducted in December 2022:
JENESYS Japan-Thailand Exchange for High School Students – High school students who study Japanese in Thailand participated in the online program held on 7-13 December 2022. They enjoyed "Noh" (the oldest theatrical art that still exists in Japan) in Kyoto, school exchange with Seto High School in Okayama, Japanese art with Japanese ink, and home visit at Ehime.
JENESYS Japan-Myanmar Exchange (Japanese Language) – on 30 November – 6 December 2022, 46 Japanese language learners from Myanmar came to Japan. In Tokyo, the attended lecture and experience of Japanese culture and language, while in Nagano and Fukushima they had a home visit. Read more about the story from JICE Facebook page.
Join the #50lden_jenesys Challenge – 2023 is the 50th Anniversary of ASEAN-Japan Friendship and Cooperation, carrying the slogan "Golden Friendship, Golden Opportunities". To commemorate this, JICE will have a Hashtag Challenge on Instagram. What is JENESYS for you? What did you get from JENESYS? What do you want to do in JENESYS? Let's participate! Download the frame and write about those themes and post it on Instagram with #50lden_jenesys.
Thai Students with Pop Culture – University and graduate students from Thailand came to Japan under the JENESYS2022 program from 30 November – 6 December 2022. They went to Tokiwa-so Manga Museum, Nakano Broadway, and Manga, Animation & Voice Actors School in Hokkaido.
JENESYS2022 Japan-Malaysia Exchange Program – Finally, those from Malaysia participated in the inbound program of JENESYS. Two batches, "young officials" and "women's empowerment," visited Japan on 23 – 29 November 2022. After lectures and exchanges in Tokyo, the team of young officials visited Tochigi Prefecture, and that of women's empowerment visited Osaka and Nara Prefecture. Every day, there were new findings, and they recognized differences from Malaysia, and they made all the things into the presentation materials during workshops. At reporting Session, they presented to Government Officials from the Embassy of Malaysia and the Ministry of Foreign Affairs of Japan, which was a very fulfilling and meaningful reporting session.