How Can We Prepare for Disasters?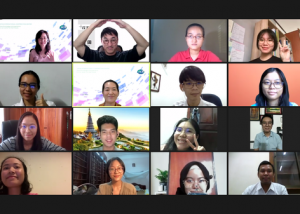 30 July 2021
-
Study tour about Disaster prevention for Sustainable Development Goals (SDGs) for participants from Cambodia, Lao PDR, Thailand, and Viet Nam was held on 30 July 2021.
Participants from ASEAN have learned how to approach SDGs in disaster situations. Mr. NAGATA Hirokazu from an non-profit organisation (NPO) Plus Arts explained the importance of edification and prior knowledge to prepare for a disaster.
JICE appreciates participants who joined the session. In today's disaster-prone world, it is important to extend the power of learning to the next generations.
This event is part of the Japan's Friendship Ties Programs JENESYS2020 "Inbound, Outbound and Follow Up Project" supported by the Government of Japan through Japan-ASEAN Integration Fund (JAIF).