The Coordinating Ministry for Human Development and Culture Lead the Indonesian Delegation at the 4th ASEAN Working Group on Culture of Prevention Meeting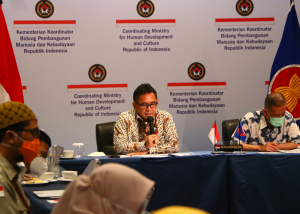 01 April 2021
-
The Coordinating Ministry for Human Development and Culture (Kemenko PMK) attended the 4th Meeting of the Working Group on the Declaration on Culture of Prevention (CoP) for a Peaceful, Inclusive, Resilient, Healthy and Harmonious Society (WG CoP), which was held virtually, on Monday, 29 March 2021.
The 4th WG CoP meeting discussed the update of the Plan of Action (PoA) on the Culture of Prevention (CoP), the plan to organize a Partnership Forum to advance the implementation of the CoP, and the development of Awareness Campaign activities aimed at increasing awareness of the ASEAN community towards prevention culture and inspiring community on certain issues to have a change of mindset and take individual or collective action to promote a culture of prevention.
The ASEAN Declaration of Culture of Prevention (CoP) was adopted by Heads of State at the 31st ASEAN Summit, which was held on 13 November 2017. Itconsists of 6 drivers or focus areas, namely: 1) Culture of Peace and Intercultural Understanding; 2) Culture of Respect for Others, 3) Culture of Good Governance and Governance at All Levels; 4) Culture of Resilience and Environmental Care; 5) Healthy Lifestyle Culture; and 6) Culture Supports Moderation Values.
Indonesia supports the initiative taken by Brunei Darussalam to develop a Regional Policy Framework on Fostering Greater Understanding, Tolerance and a Sense of Regional Agendas Among the Peoples of ASEAN which is supported by the Government of Japan through Japan-ASEAN Integration Fund (JAIF).