INOTEK Hosts a Co-Incubation Program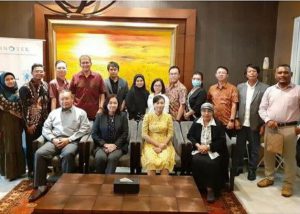 02 March 2020
-
INOTEK held a Co-Incubation Program in Jakarta from 24-29 February 2020. This activity is a joint incubation and consultation program with startups from three countries, namely Malaysia, Thailand, and Vietnam. This program has received support from ABINet ASEAN – JAIF. The co-incubation program was intended to provide opportunities for participants to expand the market in Indonesia.
INOTEK provides facilities by bringing together participants to the right partners, opening business networks, providing business consultations with professional mentors, and providing information about the Indonesian market.
This activity was attended by three business incubators and three start-ups from ASEAN countries, namely:
Cyberport and start-up Agri Trust from Malaysia;
Thai BIC and start-up Proplan Industry from Thailand; and
AHBI and start-up Viet Nature from Viet Nam.
It is expected that the program will equip the participating business to improve to the next level.
The Promoting SME Competitiveness through ASEAN Business Incubator Network-ABINet project is supported by Government of Japan through the Japan-ASEAN Integration Fund (JAIF).