Invitation to Join Webinar on JENESYS2020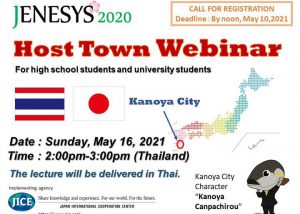 29 April 2021
-
Embassy of Japan in Thailand invites high school students from Thailand to join the online webinar on exchange programme through JENESYS2020 project. It aims to increase mutual understanding of youth from Japan and Thailand to foster friendship and cooperation in the future.
Through the webinar, students can find out the interesting things of Kanoya city in Kagoshima Prefecture, which will be the Thailand's host town in festival Olympic or Tokyo 2020. Host town refers to a local city in Japan that welcome athletes from around the world to compete in Tokyo 2020. These host towns will connect with the countries participating in the competition through public-level exchanges to deepen mutual understanding and strengthen a lasting friendship.
The Japan's Friendship Ties Programmes JENESYS2020 is supported by the Government of Japan through Japan-ASEAN Integration Fund (JAIF).